Follow The Dark Path into a world of pagan rites, Druidic lore and Celtic myths. It is the Autumn Equinox on Barrow Hill, a time of great power, when the day and night are equal.

The moment has been foretold, by the mysterious standing stones that hide in the landscape. Do the ancient monoliths signify some terrible event to come? You have one night to make the offerings, solve the mystery and escape Barrow Hill.
Now Available: The Dark Path – Game Soundtrack

Featuring theme music and atmospheric location tracks from Barrow Hill: The Dark Path, including the music from Barrow Hill Radio presented by Emma Harry. 46 tracks. A 7 Page PDF booklet provides full track listings and game artwork. 116 minutes, nearly 2 hours of audio.

Track Listings
It has been 10 years since the 'Barrow Hill Incident', a terrible, unsolved mystery, when several people lost their lives to the force inside the hill. No-one knows what really happened, except you. Something to do with the ancient standing stones, the old Druid Circle. It was built by pagans, millennia ago, for purposes that we can only guess at. Until now.

"You know... you Restored the Balance...Made the offerings... you proved that man has not forgotten the ways of the past."




It is the Autumn Equinox, when day and night are equal, exactly as they were a decade ago. You have returned to the scene of the crime, seeking answers. Could such an event happen again? What trials and offerings await? As you leave the car behind, and step into the dark world of the old woods, you wonder whether you seek the truth, or you are following the Dark Path.

"There is an uncanny atmosphere tonight listeners... But BHR will be your guiding light in the night."
Joining you on your adventure, once again, is kooky amateur late-night DJ Emma Harry. She is worried for her teenage friend, Mia, who has been behaving suspiciously. Emma has heard rumours of rituals, ceremonies and Devil Worship near the old Barrow Hill Service Station. Could Mia be involved? She may have good reason, Mia's brother Ben was among the missing 10 years ago. Is time repeating itself?


"I saw 'Things', things that shouldn't exist in our modern world. An ancient power, disturbed after thousands of years."




AVAILABLE NOW
on DVD - Rom and Download
Features

Sequel to Barrow Hill - Curse of the Ancient Circle.
A classic style 'point and click' adventure.
Explore the woods, standing stones and abandoned buildings of Barrow Hill, Cornwall.
A full spooky soundtrack, featuring real-world sfx from the setting.
Solve a myriad of puzzles and enigmas.
Full voice cast, to bring the adventure to life.
Search for lost treasures from the Bronze Age.
Use archaeology to uncover sites not seen for thousands of years.
| | | |
| --- | --- | --- |
| | | Stuck on a puzzle, lost in the woods, perplexed by Baibin? Look no further than The Dark Path Walkthrough. Over 36 pages of guiding hands to help you through your nocturnal adventures in the Barrow Woods. Packed with hints on where to find those all important clues or prod you in the direction of what to do. Includes the location of every Item to collect and where and when to Use them. Download the walkthrough HERE for the solutions you need. |
System Requiements

Minimum:
OS: Windows Xp, Vista
Processor: 1.5 Ghz
Memory: 1 GB RAM
Graphics: 128 MB DX 9.0c compliant videocard
DirectX: Version 9.0c
Sound Card: DX 9.0c compliant soundcard

Recommended:
OS: Windows Xp, Vista, 7, 8, 10
Processor: 3.0 Ghz
Memory: 2 GB RAM
Graphics: 256 MB DX 9.0c compliant videocard
DirectX: Version 9.0c
Sound Card: DX 9.0c compliant soundcard

Required - Keyboard and Mouse to play.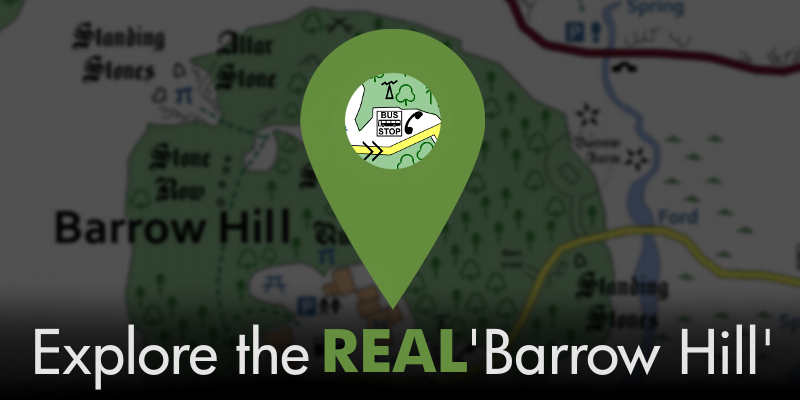 | | | |
| --- | --- | --- |
| | | |
| | | |
| --- | --- | --- |
| The waterfall at St.Nectan's Glen has created a microcosm, a green place teeming with life… and pagans. The rituals and signs of wiccan worship are obvious, with stone cairns, offerings and ribbons everywhere to see. Some are prayers, good will wishes, sad memorials and reminders to others, of their visit. A bit like a pagan pilgrimage. | Trewethet Mill is a wonderfully weird place, and a big influence on the new game - Barrow Hill - The Dark Path. It's an old mill, in utter ruins, perched alongside the stream at Rocky Valley, North Cornwall. High outcrops of slate and volcanic rock loom overhead, creating a microclimate below. The valley is home to 174 types of moss, a few cool ruins and a cave or two. | Golitha Falls - The forest as a place of magic and danger is found among folklore wherever the natural state of wild land is forest: a forest is a location beyond which people normally travel, where strange things might occur, and strange people might live, the home of monsters, witches and fairies. |